Equivia Waxed Equestrian Surfaces
Equivia all weather equestrian riding arena surfaces are a combination of the finest silica sand mixed with clean, pulled and chopped post-industrial fibres and water repellent, dust settling wax equally distributed throughout each surface.  To this base we can add felt, clean cracked rubber or synthetic grit to create a surface that performs as individual equine establishments require.
Equivia No.1
Our premium consistently waxed all weather surface. With thoughtful maintenance the surface will ride the same, in all but the most extreme conditions.
Ideal for the professional or highly competitive yard. Used by Andrew Balding and Alan King shows Equivia No.1's versatility for both young flat horses and top class national hunt chasers.
Equivia No.2
A medium waxed all weather surface ideal for the competition yard, private user or those with facilities that do not rely entirely on one surface. The wax distribution ensures the all weather surface will be dust free in the summer and frost resistant in most cold snaps. The surfaces consistency in the UKs changeable climate is improved by the supportive nature of our handpicked fibres. An easily managed all weather surface is a very popular choice across the disciplines.
Equivia Drymix
Uniquely sourced fibres direct from factory off cuts are mixed with a proportion of grit mixed into fine silica sand prevent the all weather surface from riding too deep. The dry mix all weather surface is reliant on moisture to prevent it from becoming too dry in summer but as all our fibres are sourced straight from the factories manufacturing carpets and are therefore off cuts from this process,  there is no chance of contamination from the fibres having been used previously.
Equivia Additives and surface rejuvenation
Equivia has successfully and economically enhanced "tired" all weather riding surfaces previously supplied by other manufacturers, by measured use of our exclusive fibres, patches or wax (either in a highly concentrated top up or by way of cold emulsion). This process inherently involves a deep loosening of the existing surface and the difference can be staggering.  We have great experience in bringing new life to once tired all weather riding surfaces.
Ian Balding
Ian Balding said after renovation of the Loch Song gallop at Kingsclere in June 2012, "The new Equivia gallop surface has stood up to the huge amount of rain we have had perfectly. No standing water anywhere and riding extremely well."
"Our covered ride was dusty and uneven so the old surface was completely removed and replaced with Equivia. The surface has been absolutely perfect for the job."
In October 2014 "The new gallop on the downs (which we call the Side Glance gallop) has been great and we have used it a lot!."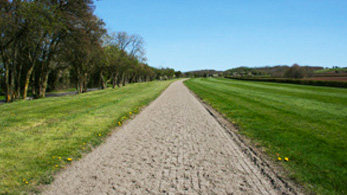 Jonjo O'Neill
The surface of the 5.8 furlong gallop at Jackdaws Castle was replaced in July 2013 and has been a great success.
Jonjo O'Neill said:
"I am delighted with the Equivia gallop at Jackdaws Castle. It gets worked hard – the horses trot down it, then gallop up then trot down again and work up a second time. The majority of the training is done on this gallop and it 'takes the hammer'. It drains perfectly and is maintained with a power-harrow."