DESIGN & CONSULTANCY
Three decades of design and setting out experience. The 1970's heralded the start of widespread use of all-weather surfaces for gallops and arenas. Our business was established in 1974.
We can bring all of the knowledge accumulated over those three decades to your project. The location and positioning of your gallop or arena, the all important gradient of a gallop. We even have a unique computer survey and design program for setting out precise racing bends on gallops.
EQUINE SURFACE CONSTRUCTION
We own all of our own plant and equipment so we can carry out construction projects at highly competitive rates with our own skilled operators. From the all-important drainage systems to the porous tarmac layer and Equivia surface, ask us to quote for your construction project.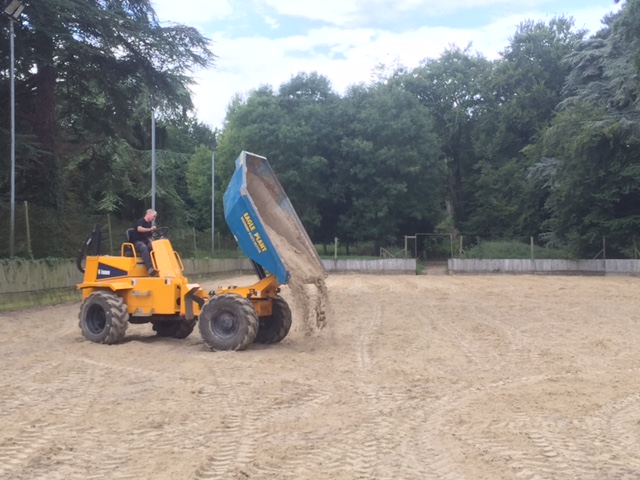 FARM & EQUESTRIAN LANE APPRAISALS
We are often called in on a consultancy basis to look at a farm or established equestrian property, to advise on suitability for equestrian uses.
We carry out full surveys, advise on slopes and gradients, drainage and soil types.
We create drawings for planning consents, write specifications for construction and compile trouble-shooting reports for existing equestrian facilities.
RIDING SURFACE MAINTENANCE
Diligent routine daily maintenance of the riding surface by the customer is a vital discipline. All of our construction projects and supply only orders come with a free annual inspection and the report which follows helps to highlight any areas needing extra attention. However, from time to time, surfaces need to be topped-up, upgraded or replaced. We always strive to carry out maintenance work as quickly as possible so as not to disrupt your training program.
EQUIVIA SURFACE MATERIAL PRODUCTS
We have owned the all-important wax application equipment for many years and manufacture Equivia all-weather surfaces to the highest standards at our own plant. We can tailor the product exactly to your requirements. Racehorses, show jumpers, dressage horses, surfaces indoors and out. For UK and overseas, cold climates and hot ones, Equivia surface materials can be adapted to suit your needs.
EQUIVIA FIBRES
The fibres which go into Equivia surfaces are unique to us. They provide the all-important ingredient for our factory manufactured product. The same fibres can also be applied to your sand surface 'post-installation' to give stability to plain sand surfaces which would otherwise ride 'deep'.