Belebro is the pioneering world leader in equestrian exercise technology. Founded in 1987, the company has sold more than 1400 horse walkers worldwide and has patented technologies that contribute to stress-free and healthy lives for horses. Equine Health Centre Walkers is the sole supplier of Belebro products in the UK.
The unique lightweight construction is sturdy, enabling exercisers to be built up to 40m in diameter, whilst maintaining emphasis on providing a comfortable and relaxing environment.
The key benefits of Belebro walkers are:
Safe to use and appealing to look at thanks to Belebro's patented and lightweight design
Smooth, quiet drive mechanism requires low maintenance
Exercise programmes to suit your horse's needs can be programmed into the walker with varying speeds and alternating directions
Horses encouraged to drop their heads into the optimum position for ultimate muscular training thanks to the Beo-band© open fencing. Also helps horses stay calm and unstressed
Horses safety ensured by Safeguard© lightweight flexible separators between each bay
Risk from fire reduced with sprinkler system
Fully customisable for your needs: size (up to 40m), dual tracks, roofing with top hung motors so middle area can be used for free schooling
Drive Mechanism
The simple design of the drive mechanism means fewer wearing parts, keeping maintenance to a minimum. For example, an automatic battery-powered lubrication system has been devised to regularly grease the drive ring; all that the user has to do is check the level occasionally and replace the cartridge when it runs out (once or twice per year, on average, depending on use).
The motor is connected to the central drive wheel by three V-belts which, if overloaded, will slip to minimise the risk of injury to a horse. This method has been used by Belebro for more than 10 years and, to date, a V-belt has never had to be replaced because of wear and tear.
Walkers up to 20 metres in diameter are driven by a 0.5 – 1.1kW electromotor with a reducing gear mechanism. For larger walkers, the motor will be custom made to suit your individual needs. With good maintenance and care, the average life expectancy of a motor is around 15,000 hours.
Fencing
The importance of good fencing for a walker cannot be overestimated. It is essential to provide a secure environment in which horses can be exercised safely, but this need not mean the unsightly closed-in fencing which is so often used.
A good walking exerciser must encourage a horse to relax and walk in its natural way, with its head down, to optimize the exercising of all relevant muscle groups. This in turn will lead to better digestion, blood circulation and metabolism. In order to walk in this relaxed manner, horses simply need to be able to see what is going on around them as they move.
Belebro fencing incorporates three bands of Beoband© strapping, supported on a choice of hardwood or galvanized steel posts. Beoband is a 100mm wide strap manufactured from a combination of nylon mesh and rubber in a choice of three colours (black, white, green). It serves the simple purpose of delineating the walking area for the horse without restricting its vision. In the unlikely event that a horse tries to escape, the strapping is designed to stretch and then to snap, to ensure the safety of the animal.
Safeguard© separations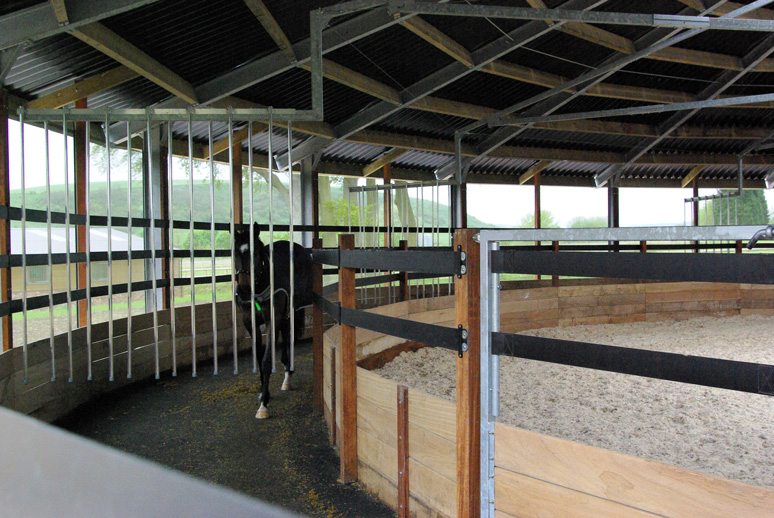 As with the fencing, the design of the bay separators plays a vital role in ensuring that horses feel relaxed in the walker. Instead of solid rubber sheets or steel mesh which are so often seen in walkers, Belebro has designed a simple, effective and safe method of bay separation. Safeguard© separations are formed of synthetic rods that hang next to each other on the arms. Though tough, these rods remain flexible even in sub zero temperatures and have a conductive aluminium layer through which a light electrical current can be passed to keep the horse in its bay.
Unique benefits of the Safeguard© separations include:
Flexible yet firm.
Keeping your horse safely in its bay with a light electrical charge.
No risk of being hit by a solid separator kicked upwards or backwards.
No risk of horses' hooves getting caught in a separator.
No risk of horses being injured by a damaged separator.
No risk of injury from pointed ends, as with metal rods.
No risk of being speared by a broken rod, as with metal or other synthetic rods.
No agitation caused by horses striking out against separations.
Reduced wear and tear on the drive and low running energy because of the light weight of the Safeguard© separators.
Safeguards the entire exerciser mechanism because the force of any blow is not transferred to the construction and the drive.
Sprinkler System
Keeping the floor dust-free is very important for the horses' bronchial health as airborne dust particles can be potentially damaging. All Belebro walkers can be equipped with a simple but very effective water sprinkling system which will keep the floor damp, thereby preventing dust.
Automatic Lubrication
The lubrication system automatically greases the drive ring, thereby preventing the overloading of the drive. This system contributes to the reliability and durability of the Belebro walker. Depending on frequency of use, the lubrication must be replaced once every six to 12 months.
Have a question? Give us a call on +44 (0)1458 251300