The Vitafloor vibrating floor system for horses is available in a variety of sizes to fit most spaces and applications.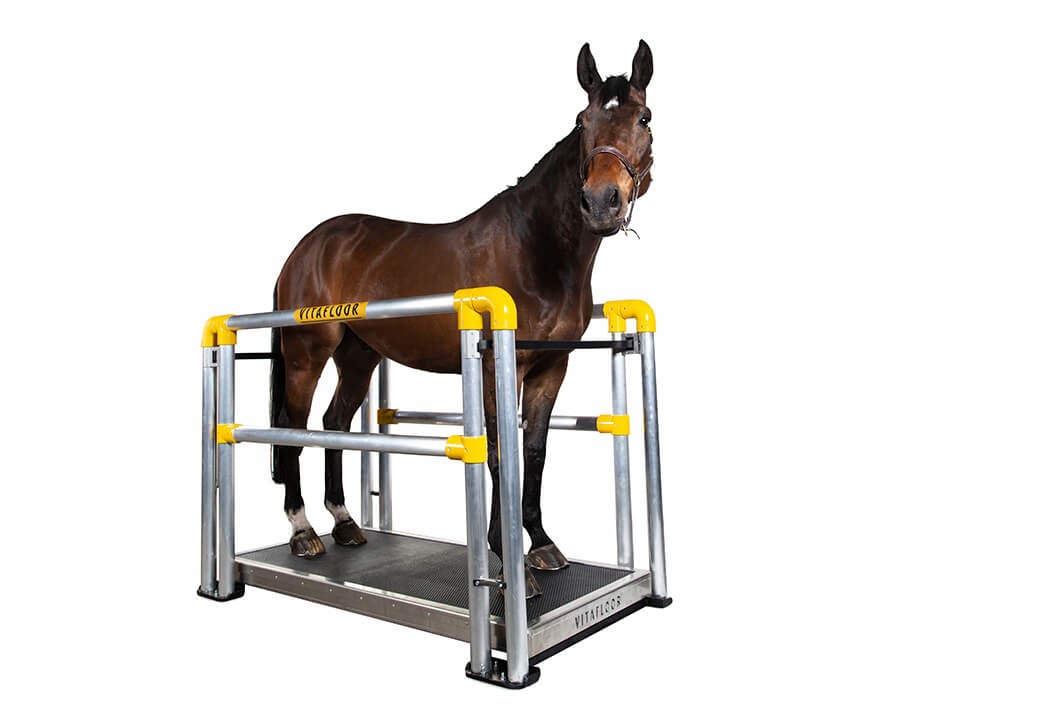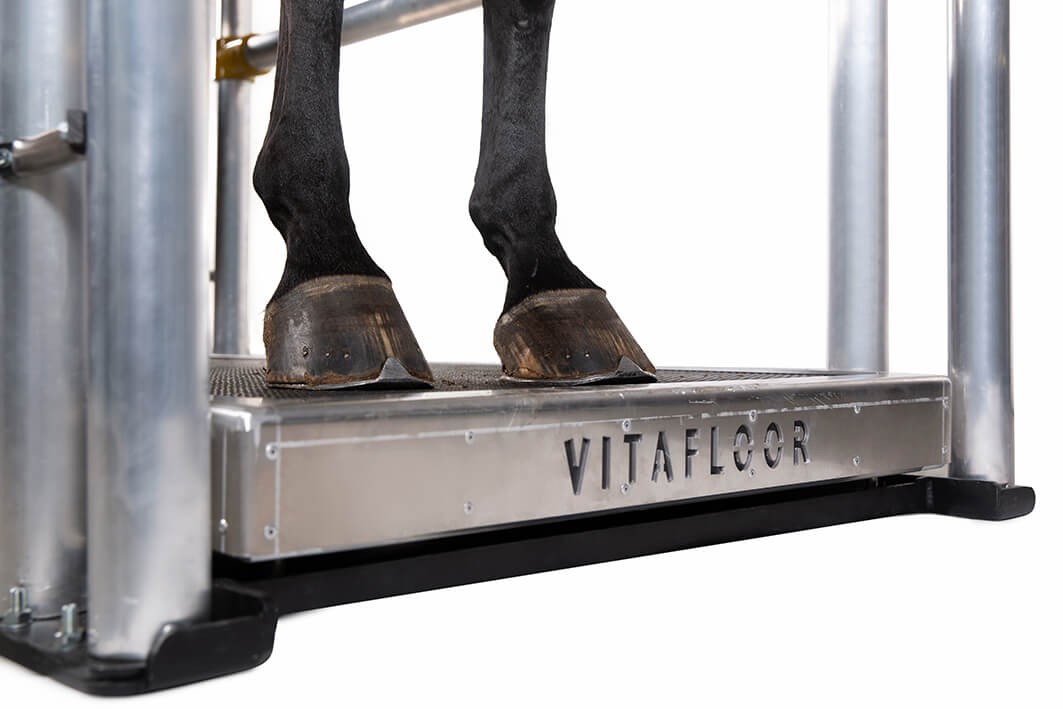 MOBILE
You can have all the benefits of a Vitafloor on a budget…
Aimed at the smaller yard, the Vitafloor  VMC unit is designed to be movable and economic. This stand alone unit have become incredibly popular among equestrians and trainers because it is small and affordable without compromising the refined vertical vibration unique to Vitafloor.  Easy to install, all you need is a flat level floor (preferably concrete) and 110V single phase power supply. Find where you want to place the floor, plug in the control panel and you can start training straight away.
The unit is low to the ground, so no ramp is required.
VMC
Size: 200cms x 90cms
Available with side bars and safety click system
The floor can be purchased with either a Basic or Advanced Control Box.
IMPORTANT
Whilst on the Vitafloor VMC Mobile any horse will need to be supervised. If you want the benefits of unsupervised training or treatment, you need to look at the Vitafloor VM1 Compact or Vitafloor VM2 Standard which are both permanently fitted into a stable or contained space.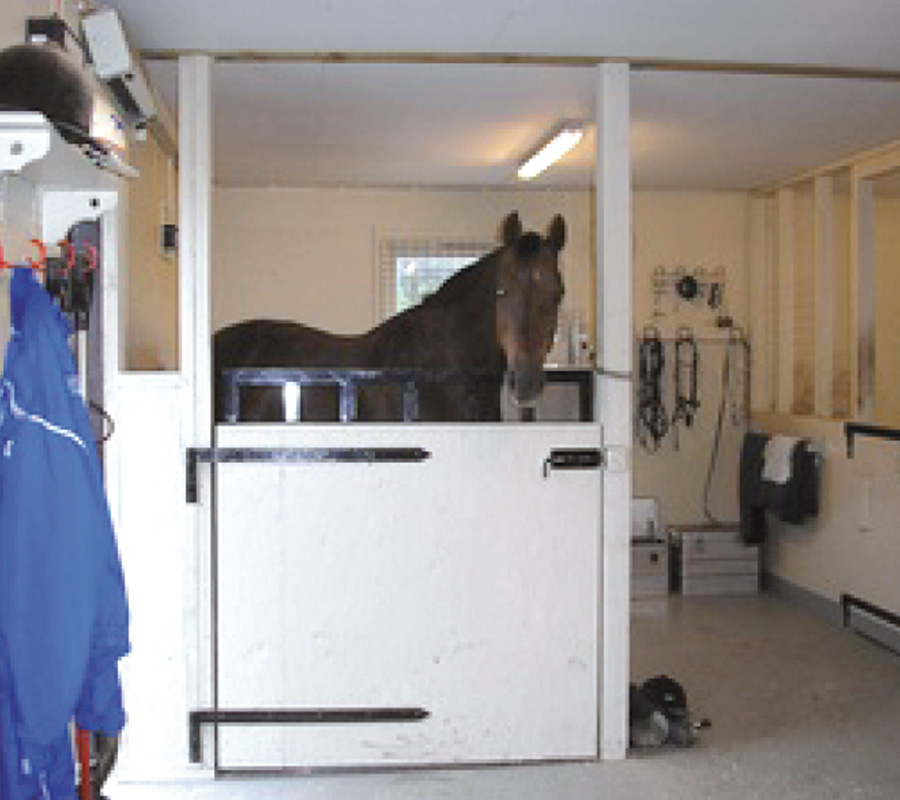 VM1 COMPACT
You can have a Vitafloor fitted in a more confined space too…
At 6 x 10' (1.83 x 3m) the Vitafloor VM1 Compact is the smallest fitted unit in the range – great in a grooming station, box room or passageway.
Ideally, the horse should be standing loose on the Vitafloor – the sides need to be closed to allow free movement.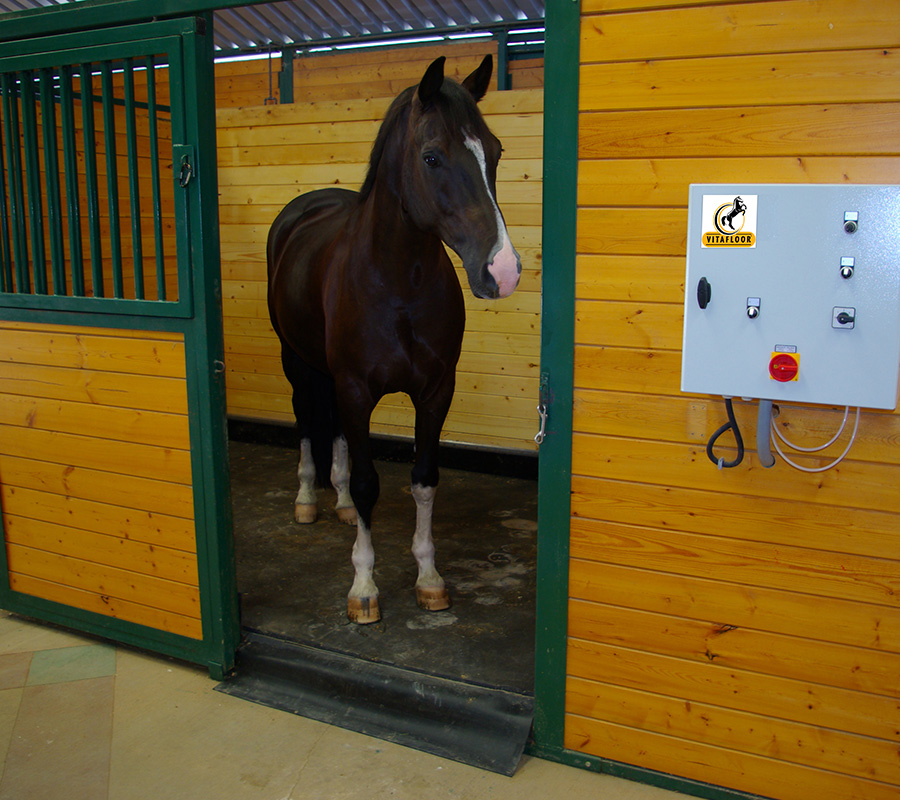 VM2 STANDARD
You can have a Vitafloor fitted into a standard stable…
The Vitafloor VM2 Standard comes in two sizes – 10 x 10' (3 x 3m) or 12 x 10' (3.5 x 3m) designed to fit into a standard 12 x 12' stable. Custom sizes can be built to order.
A horse can fully relax on the floor as if it was in its own stable. It is easy to operate and soon becomes a part of a daily routine.
One Vitafloor VM2 Standard can treat 15-20 horses daily – just put each horse in the stable and take it out once the programme has finished. Horses get used to it quickly and since little or no supervision is required, no-one needs to waste time waiting around. It is practical, safe and easy to use – and easy to maintain.
TRY IT OUT FOR YOURSELF
Vitafloor VM0 Mobile unit available to hire on a trial basis.
Have a question? Give us a call on +44 (0)1458 251300
My Vitafloor is an intrinsic part of our training and fitness programme. All the horses on the yard use it every week throughout the year; this includes the hunters, eventers and my children's ponies. I feel the floor improves muscle stability and tone. It is a vital piece of equipment for Team Taylor and I would not be without it.

Team Taylor Eventing, UK

The Vitafloor® is a great addition for our competition horses. It really helps to keep them in top shape, sound and healthy!

San Diego, California USA, spetersdressage.com

We use Vitafloor® every day and it helps our horses to recover after tough training.

Swedish National Team, Linderod, Sweden, www.springfieldfarm.se

The Vitafloor® is very user-friendly and practical in design. Since using it, my horses are fitter and more relaxed with improved musculature. It also helps prevent tying-up. …our family-owned racehorse 'Mikado' has shown great improvement using Vitafloor®.

Las Cruzes, New Mexico USA

Peas & Carrots became racehorse of the year twice in Sweden with help from our Vitafloor®!

Svedala, Sweden, lrjunior.se

We use the Vitafloor® on all our trotters and it makes them stronger and smoother.

Trainer of Jackal Face, Sweden

I can definitely feel the lack of strength, flexibility and especial lack of muscle mass that Henry is displaying this year compared to last year when he was on a Vitafloor each day.

Member Australian WEG Team, Ocala, Florida USA