Seawalker has drawn on centuries of tradition and science to develop the ultimate training and rehabilitation tool for top equine athletes.
Combining serious exercise that is enjoyable to the horse, with the inherent benefits of chilled salt water, provides an invaluable aid to every horse.
Icing horses legs becomes a thing of the past as the salt water, chilled to almost freezing reduces inflammation from daily training and previous injuries. Salt water encourages hoof growth and the load bearing aspect of training in the Seawalker helps Laminitic horses, as the cold water cools feet and relieves pain. The cooling and 'tightening' effect of the chilled salt water reduces Distal Limb Oedema following work and helps reducing general low-grade inflammatory limb conditions.
You can significantly reduce the time involved (man-hours) in icing horses legs on a daily basis.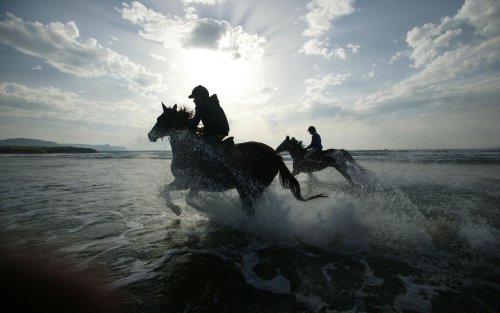 Furthermore, the salt content of the water does not support microbial growth, therefore the water remains suitable for use without the addition of harmful chemicals such as chlorine, that can have a damaging effect on skin of horses and their handlers.
In addition, recent human studies (Kellet et al 2005 | Al-Ansari et al 2010 and others) have demonstrated the possibility of a protective or otherwise beneficial effect on the respiratory system from the inhalation of nebulised saline.  This is the same environment produced above the surface by the Seawalker, working at the recommended water temperature of 4°C.
Kellet F, Redfern J, Niven RM
Evaluation of nebulised hypertonic saline (7%) as an adjunct to physiotherapy in patients with stable bronchiectasis
Respiratory Medicine 2005. 99:27-31
Have a question? Give us a call on +44 (0)1458 251300
Used correctly, Seawalker is probably the most significant step forward ever in the training of the equine athlete…

World-renowned equine physiotherapist

Cross-training in the Seawalker produces a stronger, more stable and balanced musculoskeletal system. This is likely to produce more confidence in the equine athlete and frequently a greater willingness to push itself that bit further. Walking through the water encourages the horses to adopt self-carriage. Working in such a way is an ideal scenario for all horses…

Veterinary surgeon to the British Endurance Team

We have already experienced many individual cases in the short time of having the Seawalker but of particular note was that leg joints and fetlocks tightened up in all horses, the effect was noticeable within days…

A common problem with racehorses is that post-training the muscles can 'tie up' or seize. This is very painful for a horse and we found once again that a 20 minute session in the Seawalker before and after riding controlled this problem better than any medication…

For the sprinting thoroughbreds a 20 minute session on the Seawalker before training would loosen up the muscles and we found the horses moved remarkably better directly after…

We have already experienced many individual cases in the short time of having the Seawalker but of particular note was that leg joints and fetlocks tightened up in all horses, the effect was noticeable within days…